Immersive production & creative studio
Surround Vision are a full service immersive production studio who specialise in interactive content that blends game engine mechanics with traditional broadcast and 360° video production.
We offer a range of services, working with clients to develop content that engages with new audiences across multiple platforms.
Please feel free to contact our team with any questions on your specific project needs.
Content for a new generation
The convergence of Gaming, entertainment and cloud based (web & AI) industries are transforming the media landscape, opening huge opportunities (using platforms like Roblox, Fortnite and Minecraft) to engage with and influence a blossoming generation of interactive audiences. 
Surround Vision are at the heart of this convergence, developing content for an eager and vibrant new genre, engaging across multiple platforms.
From creative XR concepting, immersive consultancy and VR production planning all the way through to campaign delivery, we've set the bar across the industry for our high-end 360º documentary, drama and Interactive experiences.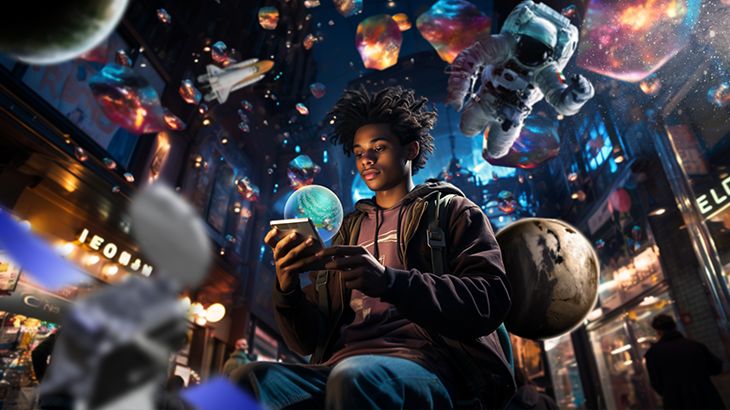 Our team build experiences designed for mass distribution across mobile platforms and mixed reality headsets, allowing our clients to reach billions of smartphone users through webAR experiences & custom AR Apps.
Working with Mocap systems that can capture movement and facial expressions of multiple performers we are able to translate this directly into game engines like Unity and Unreal.
These production techniques give our development teams the flexibility to optimise the content across a range of devices and platforms.
Our team can help advise on the best capture method to suit your requirement and budget.
Adding motion graphics, character animation or 3D environments to your content can really help to lift audience engagement.
Our Post production and creative team can help develop art styles, to complement the narrative while working within the technical constraints of the delivery platform.
As a one-stop-shop for immersive content production we're proud of our heritage as immersive storytellers. We have produced original films, documentary series and interactive experiences for the Worlds' top brands and broadcasters.
At Surround Vision we love to get involved early on in a project, this allows us to advise and ensure that resources are used in the right places. We working with clients to craft original content from early sketches, through scripting, tech delivery consultation through to producing and directing.